Teacher In-service & Curriculum Days / Staff
Development Meetings
As an author and living history presenter, Tricia Martineau Wagner, conducts teacher in-services, curriculum days, and staff development days in school districts nationwide servicing teachers in grades two through eight.
The author's four historical non-fiction books dovetail perfectly with the Standard Course of Study & Competency Goals established by the state.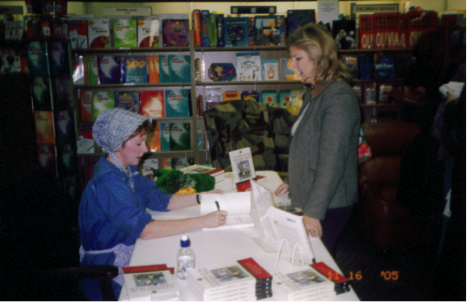 Teacher In-services & Curriculum Days: 
1-day, 2-day, 3-day, or 4-day options available 
Ms. Wagner's history/writing programs are appropriate for teachers interested in integrating literacy in their Social Studies curriculum. The author demonstrates how her four historical non-fiction books, each with a correlating hands-on living history presentation, can be used to enhance classroom education incorporating social studies, reading, and creative writing skills.
In her conference course entitled "Trailblazers: Reading in Elementary Social Studies" the author will:
reveal how her books align with the state  standards and benchmarks.
demonstrate the living history presentations.
share fifteen hands-on, relevant writing activities to take back to the classroom.
Ms. Wagner's twelve years of experience as an elementary education teacher and reading specialist are evident in her dynamic and engaging sessions. Contact Tricia directly to hire her: tricia@authortalk.org
Fee: $300 per hour
Staff Development Meetings:  
1-hour or 2-hour meeting options are available  
Tricia's creative writing lessons will leave teachers energized and armed with practical skills that allow every student to meet or exceed their writing potential. She will actively engage teachers in the writing process enabling them to:
Draw in the reluctant writer
Encourage the capable writer
Mentor aspiring "young authors" to take it to the next level
This intense educational opportunity benefits both teachers and students.
Fee: $250 per hour
What administrators are saying about Tricia's In-services/Curriculum Days/ Staff Meeting:
What teachers are saying about Tricia's In-services/Curriculum Days/ Staff Meetings:
Themes from Wagner's books that tie into classroom curriculum:
10 Ways to Afford Inviting a Guest Author to Your School: