Why invite a guest author to your school?
Author visits are wonderfully enriching for students! The experience excites children to read and inspires them to become readers & writers themselves. Open the mind of a child to become an author and explore the exciting careers in the world of writing, illustrating, editing, and publishing.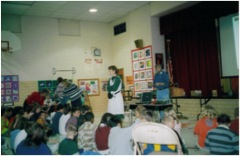 Tricia Martineau Wagner's hands-on, living history presentations correlate with the topics in her historical non-fiction books. Ms. Wagner is a dynamic and engaging guest author with twelve years of experience as an elementary education teacher and reading specialist. Her high-interest history/writing programs are well suited for students in grades two through eight.
As a primary resource, Ms. Wagner is highly sought after for sharing her vast historical knowledge obtained through:
reading one hundred-fifty-year-old journals, diaries, and news accounts
interviewing descendants of pioneers and slaves from the 1840s -1860s
visiting points of interest along the pioneer trails across the country
stopping at safe houses along the Underground Railroad and climbing into hiding places along slave escape routes
The author's four historical non-fiction books dovetail perfectly with the Standard Course of Study & Competency Goals established by the state. Teachers and homeschoolers on a local and national level enjoy taking advantage of this wonderful educational opportunity. Ms. Wagner's presentations may be used as a front-loading experience or a culminating event for units of study.